CHINON CE-5
This is a public Relations Booklet - no date found on the paper
This camera manual library is for reference and historical purposes, all rights reserved.


, This page is copyright© by M. Butkus, NJ.
This page may not be sold or distributed without the expressed permission of the producer
On-line camera manual library
This is the full text and images from the manual.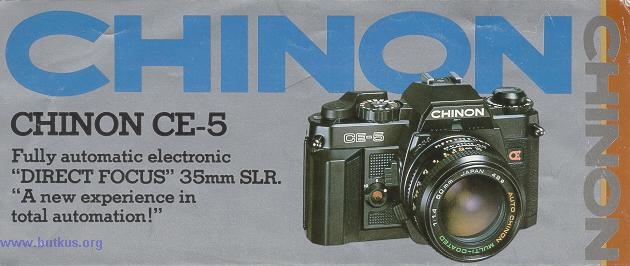 ELECTRONIC SOPHISTICATION!
| | |
| --- | --- |
| | Chinon "direct focus" electronics incorporated in the CE-5 match precisely to similar electronics in the optional 35 - 70mm zoom auto focus lens. Just depress the CE-5 shutter button to activate the 35 - 70mm AF lens; instantaneously the lens barrel rotates to the precise focus! This ingenious system even prevents accidental shutter release before the lens has completed focusing. Plus there is an electronic pin contact in the CE-5 which couples to the new Chinon Auto Date accessory databack. Now each time you depress the shutter release button you can automatically imprint the day/month/year or minute/hour directly onto your negative or slide. |
ULTRA COMPACT DESIGN!
This full frame 35mm SLR is a miracle of micro-miniaturization! It's actually smaller and/or lighter than most of the other SLR's available. Human engineered design ensures that all the controls are located exactly in the right place. There is even a detachable battery storage compartment that doubles as a hand grip.

www.

4.butkus.org

ELECTRONIC APERTURE-PRIORITY AUTOMATION -
EVEN BEGINNERS WILL TAKE GREAT PICTURES!
Just set the CE-5 to automatic for full automation! The amazing CE-5 computerized electronics selects the precise shutter speeds, steplessly, from four seconds to a sizzling 1/2000 second - the result . . . flawless perfectly exposed pictures - automatically!

www.

4.butkus.org


CREATIVE COMPLETE MANUAL OVERRIDE -
SET YOUR IMAGINATION FREE!
| | |
| --- | --- |
| | Experiment with creative combinations of shutter speeds and apertures! It's easy with the CE-5. Just rotate the shutter speed dial from "auto" to any desired shutter speed. The computerized electronics will lock in and display via LED your selected shutter speed. Another LED will flash in the viewfinder indicating the shutter speed selected by the camera's internal electronic metering system. Then, simply rotate the lens aperture ring to "zero" in on the correct exposure. . |
You can even create under/over exposure plus "bracketing" sequences with this incredible match LED system

FLASH! ! BEEP! !
ELECTRONIC SELF TIMER LETS YOU GET IN THE PICTURE TOO.!
The CE-5 features a two stage 5 and 10 second) electronic self-timer. Operation is indicated by a flashing red LED and audible been. The red LED
beep "intensifies" two seconds before the exposure so you'll know when to say "cheese"

METAL SEIKO ELECTRONIC I SHUTTER-DESIGNED FOR PRECISION!
The CE-5 incorporates the ultra precise Seiko electronic metal focal plane shutter with eleven metal blades. This renowned shutter "slices time" into fractions of a second and has a full range of- automatic stepless shutter speeds from four seconds to 1/2000 second.

MEMO HOLDER . . . SO YOU WILL I NEVER FORGET WHAT TYPE OF FILM YOU ARE SHOOTING.!

A convenient film memo holder I reminds you of the type of film you are I shooting. Just slip the flap from the | film box into the holder. It also has a handy ASA/DIN conversion scale.
REMARKABLE FULL INFORMATION VIEWFINDER DESIGNED WITH YOU IN MIND!
| | |
| --- | --- |
| | Every bit of information is contained within the bright viewfinder. Eighteen multi-colored electronic LED's indicate the stepless shutter speed, auto focus operation, flash activation, under and over exposure warning; plus above the viewfinder is a readout of the selected aperture. The CE-5 viewfinder has three focusing aids - a razor sharp split image range finder, a microprism collar, and a full-frame ground glass. The Chinon CE-5 - the focus is on automation! |

STATE-OF-THE-ART SILICON BLUE CELL METERING,
FLAWLESS EXPOSURES ... I EVERY TIME!
The solid state two silicon blue cell metering system reacts instantaneously to subtle changes in lighting conditions - so you can take pictures quickly and confidently.

www.

4.butkus.org

EXPOSURE MEMORY LOCK— SHOOT WITH CONFIDENCE!
| | |
| --- | --- |
| | Just press the exposure memory button to "spot meter" with the Chinon CE-5. The exclusive "memotron" memory button will memorize the exposure reading until you release the shutter button. Tricky lighting problems are easily solved with the Chinon CE-5. |
UNLIMITED MULTIPLE EXPOSURES —UNLIMITED VERSATILITY!
(webmaster: This is the same picture from the Genesis III booklet - reversed)
Just touch a special multiple exposure switch conveniently located by the film advance lever to make as many exposures as you want on the same frame. It was never so easy to create unusual effects!
DEDICATED FLASH SYSTEM - EASY ... AUTOMATIC!
Set the CE-5 to the "automatic" setting to interlock the amazing exposure system electronically with optional "dedicated" flash units. A 1/60 second LED in the viewfinder lights up when the flash is ready to shoot. The exposure system automatically sets the shutter to the 1/60 second flash setting. You can't make a mistake ... brilliant flash pictures are easy to take with the Chinon CE-5.

www.

4.butkus.org
DEPTH-OF-FIELD PREVIEW LEVER - BE CREATIVE!

See exactly what your picture will 1 look like before you take it! Just depress the convenient depth-of-field preview lever to stop down" the lens to its preset aperture.

Now you can see exactly which areas of the scene will be in sharp focus.

BAYONET "K'' MOUNT- A WHOLE UNIVERSE OF OPTICS TO CHOOSE FROM!
The CE-5 features the ultra precise universal bayonet "K" mount system. Any "K" mount lens will couple quickly and precisely. It couldn't be easier!

METAL CONSTRUCTION - DURABILITY - RELIABILITY!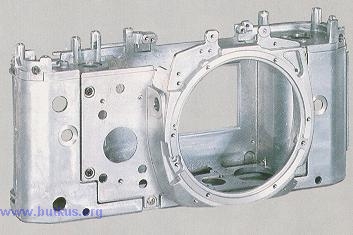 The CE-5 is constructed with a durable lightweight aluminum alloy chassis. This precision optical instrument is durable, reliable, yet is rugged enough to go wherever the action is!

OPTIONAL ACCESSORIES - ADD A NEW DIMENSION
TO YOUR PHOTOGRAPHIC ENJOYMENT!
| | |
| --- | --- |
| | Chinon offers a multitude of system accessories that will enhance your creativity! |
System accessories include: Chinon 50mm auto focus lens that "tracks" your subject via infrared beam; Chinon 35 ~ 70mm "AF" zoom lens that is activated by the CE-5 shutter release; two Chinon info-back accessory data backs that let you program up to 30 characters of valuable information onto your pictures, Chinon Auto Date databank that imprints day/month/year or minute/hour directly onto your negative or slide; unique power winders that can count the time between each exposure, select the number of exposures and shoot at 2 fps; automatic dedicated flash units; a wireless remote control unit which allows you to operate the CE-5 remotely from over 130 feet away - unattended; ultra sharp wide angle, telephoto and zoom lenses and much, much more! Chinon system accessories put the fun back into photography!!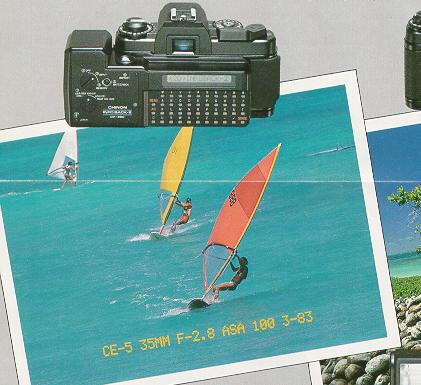 SPECIFICATIONS
· Type: 35mm automatic SLR compact camera with aperture priority exposure system (AK)
· Picture Format: 24 x 36mm
· Lens Mount: Chinon universal bayonet mount
· Mirror: Large, quick return, shockless system
· Shutter: Seiko electromagnetic metal focal plane shutter, stepless speeds from 4 to 1/2000 sec. on automatic; 13 speeds from 2 to 1/2000 sec. on manual; "B". Both automatic and manual speeds electronically controlled.

· Shutter release: Two stage electromagnetic type with safety lock and provision for cable release.

· Viewfinder: Fixed eye-level pentaprism, central split image with microprism collar and ground glass 18 LED's indicate shutter speeds (green) and over/under exposure (red), slow shutter speed warning (yellow), Flash ready (red), autofocus indicator (green) aperture visible in viewfinder

· Viewfinder Magnification: 0.87 x (@ 50mm, x)

· Viewfinder Visibility 92%

· Depth of Field Preview: By depressing depth of field lever

· Exposure Meter: TTL, center-weighted full aperture system employing two silicon blue photo cells

· Exposure Compensation: Built-in + 1 EV in one third stop increments

· Exposure Range: EV 1 (f/1.4 4 sec.) to EV+20 (f/22, 1, 2000 sec.) ASA 100 f/1.4 lens

· Memory Lock: Built-in exposure memory lock system

· ASA Range: 25—3200 (DUN 15 - 36) with safety lock . · Film Endurance: Single stroke in an arc of 130° with 25 stand-off, motorized film advance with optional Chinos power winders

· Multiple exposure: Built-in switch which disengages file advance and frame counter

· Film Counter: Automatically indicates number of exposure and resets to "S" when the camera back is opened.

· Self-Timer: Electronically controlled at 5 or 10 second. with flashing red LED indicator and audible signal, Can callable

· Film Rewind: By depressing the rewind button and cranking the rewind lever

· Accessory Shoe: Hot shoe type with X sync. and contact lo Chinon dedicated flash

· Synchronization: "X" flash sync. at 1/60 sec.

· Special Contacts for Chinon Auto-Focus Lens: Built in with auto-focus indicator in viewfinder (green LED), unless the lens is set to the correct focusing distance, the shutter is not activated

· Special Contact Or Auto-Date: Built-in

· Power Source: Two 1.5V batteries (EC SR44 or LR44 type, S76, G13, A76) 4www.butkus.org

· Battery Check: Built-in with LED indicator

· Accessories: Chinon power winders, dedicated flashes, Info-Back data-imprinting unit Auto Date digital data imprinting unit, Super multicoated lenses, Auto-focus lenses and many more

· Dimensions: 135.5(W) x 88(H) x 50.5 (D) mm (5.33" x 3.46"x 1.99")

· Weight: 490g (17.28 oz.)