Chinon Splash GX
On line manual
This manual can be used as a reference for many Chinon "Auto" cameras

This camera manual library is for reference and historical purposes, all rights reserved.
This page is copyright© by

, M. Butkus, N.J.
This page may not be sold or distributed without the expressed permission of the producer
I have no connection with Chinon Co., Japan
The next page contains information on this camera.
If the image below looks like your camera, click below to see the full manual.
The next page also contains information on how to donate to this site.
Back to main camera manual page
---
CLICK HERE TO CONTINUE TO FULL HTML MANUAL
Click here for PDF version - Better printing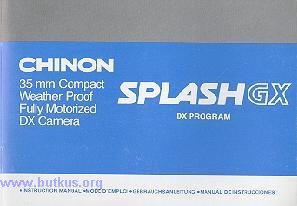 .