CHINON'S CP9-AF AUTOFOCUS SLR
TO HAVE A VIDEO BACK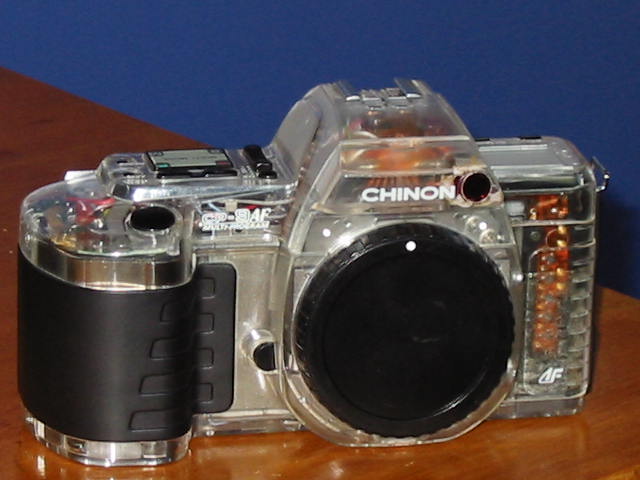 (Webmaster: this is from a article the camera magazine "SRL World" and no,
there was never a data back sold for the camera. There have been a few companies
looking at making a film camera cartridge databack. None made it past the
invention part. The biggest problem. Most cameras have different distances
from the cartridge end to the film exposure area. Plus, where's the power source.)
A different attempt to make a "digital film" loader (from 2000)
No sharp name like Genesis. Call it the CP9-AF and you'll be on target for Chinon's fully motorized 35mm auto focus SLR with multiple auto exposure (AE) modes; an accessory slip-on hinged flash unit that hugs the prism top when not in use: an LCD information panel, a C-AF lens mount largely compatible with manual focusing lenses in K, Ka and Kr mounts; and.. . . an accessory still video back!
The CP9-AF is the second camera to offer such a back. Minolta's Maxxum was the first.
The Chinon CP9-AF's auto focus system uses a phase-detection COD line sensor. A built-in focus aid beam automatically turns itself on in low lighting.
There are three programmed exposure modes for normal shooting (P), action subjects (Pa), and maximum depth of field (Pc, called "creative ' by Chinon). Aperture priority AE auto and manual exposure control are also provided. The electromagnetically controlled Seiko plastic blade-type, vertical travel, focal-plane shutter offers speeds from 8 to 1/2,000 seconds. Two silicon photodiodes measure a center weighted portion of the focusing screen for TTL exposure control.
Naturally. the CP9-AF has all the modern AF SLR features: auto load with DX film coding from ISO 25 to 5000 plus manual film speed setting for non-DX coded film, auto wind, auto rewind, and multiple-exposure provision.
But the CP9-AF offers some quite unusual features: a 1-second to 90-minute built-in interval timer that can also be used for timing bulb exposures and automatic bracketing of exposures Here's how, press a small button near the shutter release. When the shutter button is pressed in continuous film-advance mode the camera will automatically fire three shots, at -1 EV, correct exposure, and -1 EV.


With CP9-AF, Chinon enters the interchangeable lens auto focus SLR market. Unique features are a hinged accessory flash and built-in interval timer. The camera has auto bracketing, too.
Like many other AF SLRs, two auto focusing modes are available: single-exposure shutter priority and continuous auto focus with film advance up to 2.5 frames per second. The Chinon CP9-AF also offers trap focusing, in which the camera automatically releases if and when a subject comes into sharp focus at a preset distance - a distinct advantage for nature photography. All of the camera's functions are powered by a single 2CR5 6-volt lithium battery or by four AA cells.
The viewfinder is alive with colorful LED-illuminated information. Green LEDs light the hand holdable speed numerals from 1/60 to 1/2,000 second. Orange LEDs light the difficult-to-handhold 1/30-second to 1-second speeds, while 2- to 8-second speeds are understandably indicated by red LED-lit numerals. LED numerals blink to show under - or overexposure, "P" "PA", and "PC" LEDs indicate the three exposure modes; a green LED lights when focus is correct; and a flash symbol, lit by an LED, appears when the flash unit is fully charged. But this information center gives no f-stop data.
But f-stop data is shown on the top LCD information panel, which also indicates picture-taking and AF modes, lSO film speed, shutter speed, EV compensation value in use ( plus or minus 4 EV), film counter, self-timer time remaining, seconds of bulb exposure, interval time, battery check, multiple-exposure warning, end-of-film indicator, and AE lock.
Two different AE flash systems can be used with the CP9-AF Perhaps the most intriguing and convenient is the AF-S120 dedicated flash, which has a guide number in feet of 40 with ISO 100 film. This unit slips into the camera's hot shoe and lies low when not in use. When needed, you lift it upward far higher than with any SLR having a built-in flash. This added height should minimize red-eye. (We'll check it and everything else out when we test the camera in the future.)
The AF-S120 doesn't make use of the cameras TTL autoflash abilities. Instead, it operates on the highly efficient "flashmatic" system. in which the flash provides full power at all times but the lens aperture varies with focusing distance. The flash has a maximum usable range of about 11-1/2 feet when the camera is fitted with a 28 - 70mm f,3.5 - 4 5 Chinon zoom lens set to the wide-angle position and when an ISO 100 film is used. Recycling time is about 2 seconds The AF-S120 flash will shut off automatically if not used.


Like non-AF Chinon CP-7, CP9-AF has a convenient mode-control touch panel on the right side of the top deck. Note how M, when pressed, appears in LCD information panel on the left.
Hinged, shoe-mounted AF-S120 dedicated flash lies atop prism when not in use. In up position it's higher than
similar flash units, thus minimizing the possibility of red-eye.

The AF-S280 flash unit has its own focus-aid light and is powered by four AA cells It has a guide number of 92 in feet and is dedicated to the camera's TTL flash-metering system. Both units provide enough coverage to handle the angle of view of a 28mm lens (Webmaster: wrong, the manuals state only to a 35mm lens)

Two Chinon auto focusing lenses will be made available. A 28 - 70mm f 3.5/4.5 Chinon AF Zoom focuses normally to 27-1/2 inches and in a macro setting to 1:4 magnification. A 70 - 210mm f/4.5 Chinon AF Zoom has normal focusing to 5 feet and to 1:4 in macro mode. Both lenses accept 55mm screw-in accessories. The obvious question is this: Will the CP9-AF autofocus with Pentax AF lenses? The answer is no. However, most K-, KA-, and KP-mount lenses will operate with manual focusing, aperture priority AE or manual exposure modes



Chinon CP9-AF has new C-AF lens mount, which accepts K, Ka, Kr lenses for manual focus. Eight electronic terminals operate Chinon's own AF lenses. Each lens has its own built-in AF motor, like the lenses for the Canon EOS. The pencil points to standard K-mount-type, mechanical-aperture stopdown lever.
Webmaster: This only accepted three lenses made for this camera. The 28-80mm, 35-135mm (very rare) and 70-210mm. Standard K and Ka lenses would work in manual focus but Auto and program modes.
---
Now for the interchangeable electronic still imaging back, which changes the camera from a 35mm auto focus SLR using regular silver-halide film into an auto focusing electronic still camera.
The back has a -inch CCD image sensor with 380,000-pixel resolution. which captures 50 field-frame video pictures on a standard 2-inch video disk.
Shutter speeds range from 1/8 to 1/2,000 second with an effective maximum aperture of f/4. The CCD's sensitivity is equal to an ISO film speed of 160
The back offers single or continuous picture taking at 3 frames per second, automatic and manual white balance, and data recording. A 6-volt 2CR5 lithium battery supplies the power
The viewfinder uses an optical relay with 2X magnification and 90-percent frame coverage.
List price of the CP9-AF camera body will be $539 95 in stores. The AF-S120 flash is $69.95. while the AF-S280 will list at $149.95. The 28 -,70mm zoom lens will cost nearly $389.95. while the 70 - 210mm hasn't been priced yet. Price and availability of the video back haven't been announced.