Check below image for the specifications !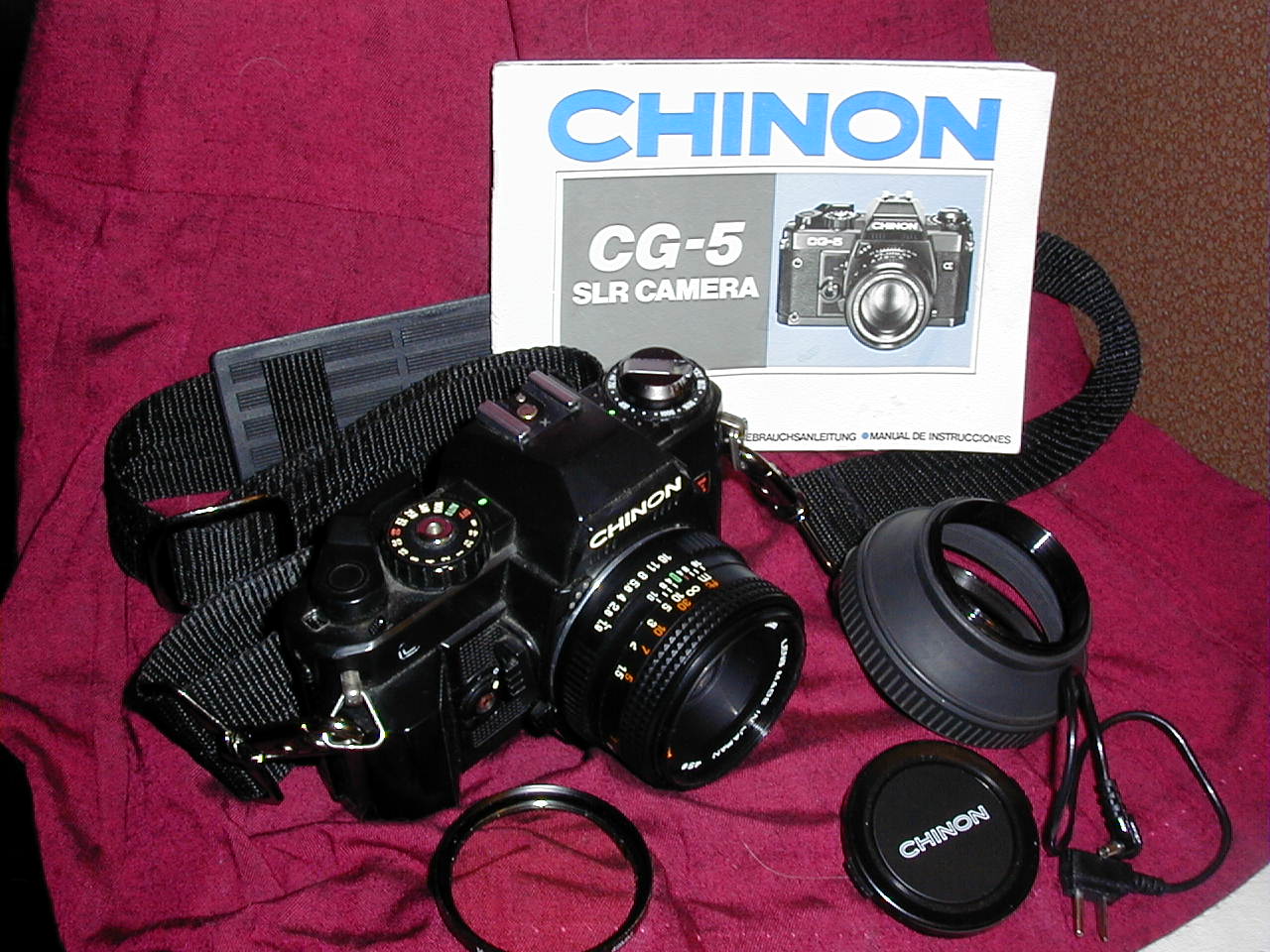 Chinon CG-5 35mm SLR Camera-Pentax P/K-A Mnt
Chinon CG-5 35mm SLR Camera accepts Pentax P/K(A) Mount Lens
It accepts lens that use the popular Pentax P/K(A) mount. It features full manual control as well as full automatic mode (aperture priority), with shutter speed to 1/1000 second. It features a two stage electromagnetic shutter, built-in TTL exposure meter controls, memory lock mode, an electronically controlled self-timer, multiple exposure controls. It has an accessory shoe that supports dedicated flash units. The camera also comes with a 50mm f/1.9 lens, a lens boot hood, a Vivitar UV-Haze filter, a shoulder strap, a removable handgrip, and the original owner's manual.
Specifications:
Type: 35mm SLR compact camera with aperture priority exposure system (AE)
Film: 35mm perforated cartridge film.
Lens Mount: Pentax P/K(A) or Chinon Bayonet Mount
Shutter: Seiko MFC electromagnetic metal focal plane shutter with downward vertical path; step-less speeds
from 1 to 1/1000 second on automatic; 13 speeds from 4 to 1/1000 second on manual;
"B". Both automatic and manual speeds electronically controlled.
Shutter Release: Two stage electromagnetic type with safety lock and provision for cable release.
Viewfinder: Fixed eye-level pentaprism, central split image with microprism collar an ground glass, 15 LEDs indicate shutter
speed, AF operation, Flash sync, over/under exposure and low light condition in 2 different colors.
Over/under exposure red LED will glow when exposure is 1EV higher or lower.
Viewfinder Visibility: 92% vertically/horizontally.
Viewfinder Magnification: 0.87x (with 50mm set at infinity).
Depth of Field Preview: By pressing depth of field lever.
Exposure Meter: TTL, Center weighted full aperture system employing two silicon blue photo cells located on
each side of viewfinder.
Exposure Preview: By pressing shutter release half way metering system is activated.
Manual Exposure System: Complete manual override capability, match LED system.
Memory Lock: Built-in exposure memory lock system.
Exposure Compensation: Built-in +-1EV in one third stop increments.
Exposure Range: EV-1 (F/1.4@ 4 sec.) to EV +19 (F/22@ 1/1000) ASA 100 50mm F/1.4 lens
ASA/ISO Range: 25-3200(DIN 15-36) with safety lock.
Multiple Exposure: Built-in switch which disengages film advance and frame counter. Automatically resets to normal
position after each film advancement.
Film Counter: Automatically indicate number of exposures and resets to "S" when camera back is opened.
Does not advance during multiple exposure.
Self Timer: Electronically controlled with flashing red LED indicator together with audible signal two seconds
before exposure flashing frequency of red LED increases. Self-timer can be cancelled even after system has been activated.
Accessory Shoe: Hot shoe type with X sync and contact for a dedicated flash.
Synchronization: "X" strobe sync. At 1/90 sec.
Flash System: Most convention flashes.
Body Dimensions: 135.5(W) x 88(H) x 50.5(D)mm (5.33" x 3.46" x 1.99").
Weight: 455 grams
Accessories: 50mm Auto Chinon Lens: 49mm f/1.9, 49mm Rubber Lens Hood, Vivitar 49mm UV-Haze Filter,
Shoulder Strap, Detachable Hand Grip, Extension Cord For A Remote Flash Unit, Original Owner's Manual