RICOH GR1
A Ricoh GR1 ultra slim, 35mm, autofocusing point and shoot camera. Central to its premium status is a 28mm
f/2.8 (7 elements, 4 groups) multi-coated, aspherical glass, high resolution lens. These are no longer officially imported to the states, but Ricoh is continuing to repair them in the USA. This current production model camera has a cult following from photographers who want a premium quality wide angle point and shoot camera in an ultra compact design. It is chock full of features, including:

aperture priority and programmed autoexposure
pre-winding of film so that shots aren't lost if the back accidentally opens
user selectable focusing modes (4)
user selectable flash modes (6)
seven bladed shutter/diaphragm for enhanced bokeh averaging metering at low light levels & center-weighted at high automatic auxiliary AF light under low lighting
close focusing to 1.1 ft. (0.35m)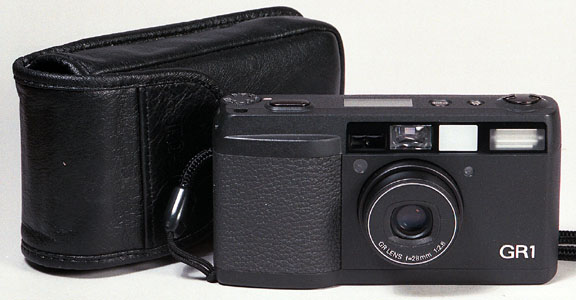 As reviewed in Popular Photography (June 1998), the resolution of this lens is as follows (lines per mm):

f/2.8 = 64 center / 45 corner

f/4 = 81 center / 45 corner

f/5.6 = 91 center / 51 corner

f/8 = 81 center / 51 corner

f/11 = 72 center / 51 corner

f/16 = 64 center /41 corner

f/22 = 51 center / 36 corner

The British magazine Practical Photography gave the GR1 a ten star rating - the highest for point and shoot
cameras! For lots of additional information, see Serious Point & Shoot Photography and the Ricoh GR1 camera.

Comes with a CR2 lithium battery, an original wrist strap and an original Ricoh leather belt case plus the box.
Only 7.5 oz., plus 1 oz. instructions.