Ricoh XR-X
This is from some elses explanation of camera functions
RICOH XR-X 35mm Multi-Program, Tri-metering system, Motorwind camera body. This a computerized fully automatic camera that does everything except focus, which is manual. See below for technical features. You will not find this camera in USA, it was specially imported from the UK. Not the same as an XR-M or XR-P, has even higher specs. Cost > $400 alone. Ricoh's Flagship top performing model.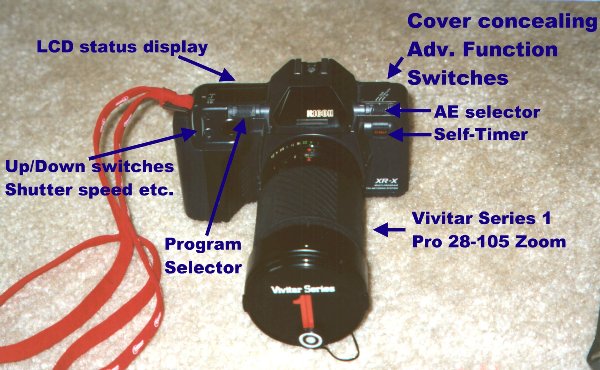 RICOH Speedlite PX integrated (side-mounted) Flash. Fully automatic, camera-powered flash that works with any of the camera programs or manually, especially good for fill-flash (Guide 24). Charges in 3 secs. and so tiny it can be left on the camera permanently or removed (instant release push button).
Camera has 3 fully automatic programs for Everyday, Depth and Action preferences, with TTL Automatic Exposure with selectable Backlight compensation, spot metering or Center-Weighted average. What all this means is that the camera can be "Point and shoot" or fully manual, or ANYWHERE in between. Ultimate control for creativity and professional results. A couple of photos are shown on the right... The program modes are accurate enough even for low speed slide (reversal) film....
Camera has Aperture-priority Automatic Exposure mode, shutter bias automatic exposure mode, TV mode for
PAL/NTSC/SECAM/computer CRT screen shots, TTL Auto-flash mode and manual mode. Uses standard PK mount lenses.
Shutter is electronically controlled vertical moving plane shutter. Auto from 30seconds to 1/2000 sec. Manual from 16secs to 1/2000 sec. TV mode, and B mode from 1 second to 1 hr. Also Interval timer from 1 sec to 1 hr for multiple shots at regular intervals for time-lapse photography. Self-timer for 10 secs or selectable from 1 sec to
1 hr with blinking LED and audible signal!
It's easy to use - all major settings are on LCD top panel, with easy selection.
Viewfinder display - AE lock, Exp. compensation, fill-flash mode, auto back light compensation mode, spot metering
mode, average metering mode, underexposure warning mark, shutter speed , long time exposure, manual, AP mode, Prog. mode, TV mode, Overexposure mark, remaining frames on film, flash ready and correct auto-flash indicators.
Auto DX film speed setting from 12 to 6400.
Flash modes: Full AE TTL metering with Speedlite PX flash supplied (should do same for 300P flash too),
for Program Flash AE, AP AE, ShutterBias AE, Program fill flash, multiple flash AE and manual flash.
Manual Exposure compensation allows you to push or pull film speed +4 to -4 stops in 1/3 stop increments.
Auto loads film with full motor wind function for single or continuous shots at 3 FPS ! Auto rewind at end of film, with manual override.
Back cover can be replaced by optional quartz dateback.
LCD display shows: P mode, TV mode, Film loaded, film advance, film taken up on spool, exposure counter, film
reverse and completion, exposure compensation, interval mode, ISO DX coding, number of frames available, shutter speed, film speed, time setting for Timer/bulb/interval. Film motorwind Single/Continuous, Battery indicator. Uses 4 AA batteries.