Leica M2R
Posted 11-2-'17
The next page contains information on this camera.
If the image below looks like your camera, click below to see the full manual.
This camera manual library is for reference and historical purposes, all rights reserved.
This page is copyright© by

- NJ.
This page may not be sold or distributed without the expressed permission of the producer
I have no connection with any camera company
On-line camera manual library - M. Butkus, Librarian

If you find this manual useful, how about a donation of $3 to:

M. Butkus, 29 Lake Ave., High Bridge, NJ 08829-1701
and send your e-mail address so I can thank you.
Most other places would charge you $7.50 for a electronic copy
or $18.00 for a hard to read Xerox copy.
This will help me to continue to host this site, buy new manuals, and pay their shipping costs.  
It'll make you feel better, won't it?

If you use PayPal.. use the link below
<<< IF YOU WOULD LIKE THIS OR ANY PDF FILE PRINTED, BOUND AND
MAILED TO YOU, SEE THIS OUTSIDE COMPANY'S OFFER >>>

RIGHT CLICK ON MANUAL BELOW, CHOOSE "SAVE TARGET AS"
SAVE TO FOLDER OF YOUR CHOICE
Problems opening PDF files or printing problems - click here
THE FILE BELOW CAN ONLY BE OPENED USING
CHROME BROWSER, Foxit PDF OR ADOBE READER !
Click here for further info
---
CLICK HERE TO CONTINUE TO
PDF MANUAL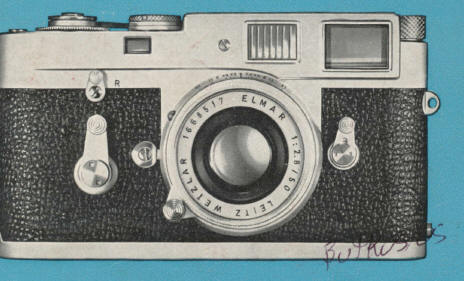 From 35mmc.com:
The first implementation of what is now known as the rapid-load 3-prong take-up spool (M4 onwards). These special order cameras were designated as Leica M2S by Leitz (though the top plate still reads M2) and were designated KS15-4 by the U.S. Army. The U.S. Army cancelled its order for the last 2,000 M2S cameras. This cancelled order is what was rebranded and sold to the general public as the Leica M2-R by Leitz New York in 1969/70. For reference, the serial number range of the Leica M2-R is 1,248,201 to 1,250,200.