SOME BASIC OPERATING INSTRUCTION FOR THE CP-9AF
This is also useful for the CP-7 and 7M cameras.
The basic parts of the CP-9AF camera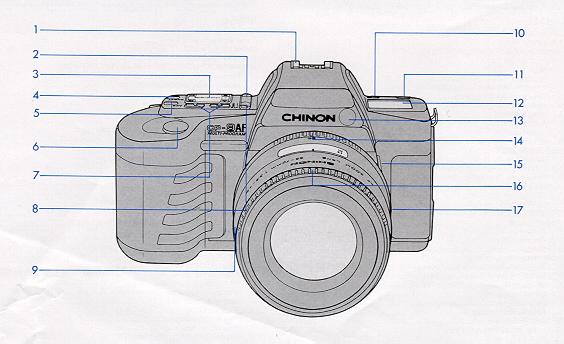 1) Accessory shoe (hot shoe)
2) Main switch ("S", "C" mode selector) Multiple exposure switch
3) Exposure mode selector
4) Mode reset button
5) AEB (Auto Exposure Bracketing) button
6) Shutter release button
7) UP/DOWN button
8) Multiple exposure lock button
9) Lens lock release lever
10) Selftimer/Time exposure button
11 ) AF mode button
12) Data panel
13) AF illuminator/Self-timer LED
14) Zoom ring
15) Cable release socket
16) Focusing ring
17) AE lock button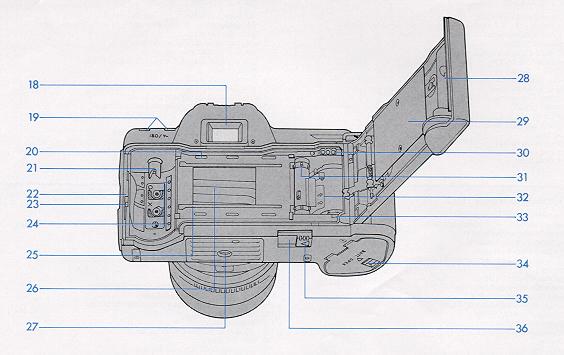 18) Viewfinder eyepiece
19) ISO setting buttons
20) Film guide rails
21) Rewind shaft
22) Back cover release lever
23) Back cover release button
24) DX film contacts
25) Film rail
26) Focal plane shutter
27) Tripod socket
28) Film window
29) Film pressure plate
30) Data back contacts
31) Sprocket
32) Take-up spool
33) Leader index
34) Battery compartment cover
35) Rewind button
36) Rewind switch protective cover
Specifications for the CP9-AF
Type: Micro computer controlled fully motorized 35 mm AF SLR with multi auto exposure modes, TTL strobe AE system,
LCD indicator for camera functions.
Type of film: 35 mm film cartridge.
Film format: 24x36 mm
Lens mount: C-AF mount (mount compatible with K, KA, KAF, RK mount lenses with certain restrictions on program
AE mode usage).
AF system: Phase differential detection with CCD line sensor.
Focusing modes: Single AF, Continuous AF, Catch-in-focus and Manual focusing with focus aid.
AF auxiliary light: Built-in emitting light, automatically activated in low light situations.
Mirror: Motorized large swingback quick return type half mirror.
Finder type: Fixed penta prism type.
Focusing screen: Ground glass with AF frame.
VF coverage: 92% horizontal and vertical.
VF magnification: 0.87x (50 mm at infinity setting).
Dioptric factor: - 1.0 dioptor
VF indications: 18 LEDs in three different colors: 1 /2000-1 /60 sec. (Green LED). 1 /30-1 sec. (Orange LED). 2-8 sec. (RED "down-arrow" LED). Blinking down-arrow LED for under exp. warning. Blinking 1/2000 LED for over exp. warning. "P" LED for Normal program. "PA" LED for Action program. "PC" LED for Creative program. Green "circle" LED lights up when in focus. Flash " "lighting bolt" " LED lights up when flash is fully charged.
LCD indications: Picture taking mode, Shutter speed, lSO speed, Film counter, Self-timer time, Bulb time, interval time, Battery check, F number, EV compensation value, Focusing modes, multiple exposure warning, end of film indicator, AEB indicator.
Shutter: Electromagnetically controlled focal plane shutter.
Shutter speed: Stepless shutter speeds from 8- 1/2000 sec. for AE modes and 15 steps from 8- 1/2000 sec. in manual plus
B. Long time exposure for AE modes is 15 sec.
Strobe mode: 2 modes: TTL strobe mode and FM mode.
Strobe control: TTL direct metering auto adjusting strobe system for AF-S280 flash and CPU controlled flashmatric for AF-S120 flash.
Strobe sync.: X sync., with hot shoe is 1/60-1/100 sec. (depends on the light value).
Slow sync.: Possible in Manual exposure mode (1 /60 sec. or slower).
Self-timer: Electronically controlled, 10 seconds. Self-timer operation up to 90 min. LED indication and LCD panel indicator
(subtracted type). Cancellation possible.
Exposure modes: Normal program AE, Action program AE, Creative program AE, Aperture priority AE, Auto exposure bracketing AE, Manual exposure and Bulb time exposure, flashmatic and TTL flash.
Type of metering: TTL full aperture center weighted average metering for non-flash photography. TTL direct metering for
flash photography.
Photocell: 2x S.P.D. (Silicon Photo Diode).
EV range: EV+1 to EV+20 (F1.4/50 mm, ISO 100)
ISO range: ISO 25-lSO 5000 in 1/3 increments. Automatic ISO speed setting for DX films. Manual ISO speed setting for non DX films is possible.
AE lock: Possible in all automatic exposure modes.
EV compensation: -4 EV to +4 EV in 1/2 EV steps. Compensation and LCD indication is only possible with DX films.
Multiple exposure: Built-in switch disengages film advance and counter for unlimited multiple exposures.
Shutter release: Electromagnetic type shutter release.
Release lock: Possible with main switch.
Film loading: Auto loading with built-in micro motor. Auto first frame setting by closing back cover.
Film advance: Auto winding with built-in micro motor. Selectable shooting mode for single and continuous exposure. Continuous film advanced at up to 2.5 FPS. Shutter release lock built into main switch.
Film rewinding: Auto rewinding activated by rewind button with auto stop system upon completion of rewinding.
"B" Time exposure: Exposure time for bulb photography can be set up to 90 minutes, 1 to 60 seconds: 1 to 90 minutes.
Interval timer: Built-in. Can be set up to 90 minutes; 1 to 60 seconds; 1 to 90 minutes.
Mode reset: Built-in.
Power hold: 12 seconds.
Cable release: Attachable
Back cover: User replaceable clip-on type.
Film type window: Built-in.
Battery check: LCD indication on LCD panel.
Power source: 1 x 6 V lithium battery (2CR5) or 4 x 1.5 V "AA" alkaline batteries. 4www.butkus.org
Dimensions: 150(W)x90(H)x50(D) mm (6"x3.6"x2")
Weight: 545 9 w/o battery (19 ounces).
ESC contact: Built-in.
Accessories: Chinon 28-70 mm AF zoom lens w/macro, 70-210 mm AF zoom lens, AF-S280 TTL dedicated flash, AF-S120 dedicated program flash, Infoback III and carrying cases.
Back to main page: www.butkus.org/chinon/chinon.htm