Petri 7


Posted 2-22-'03
This camera manual library is for reference and historical purposes, all rights reserved.
This page is copyright© by

, M. Butkus, NJ.
This page may not be sold or distributed without the expressed permission of the producer
I have no connection with Chinon Co., Japan
On-line camera manual library
If you find this manual useful, how about a donation of $3 to:
M. Butkus, 29 Lake Ave., High Bridge, NJ 08829-1701
and send your e-mail address so I can thank you.
Most other places would charge you $7.50 for a electronic copy
or $18.00 for a hard to read Xerox copy.

This will help me to continue to host this site, buy new manuals, and pay their shipping costs.  
It'll make you feel better, won't it?
If you use Pay Pal, use the link below. Use the above address for a check, M.O. or cash.
Back to main camera manual page
---
Click here for PDF made from this file
- better printing -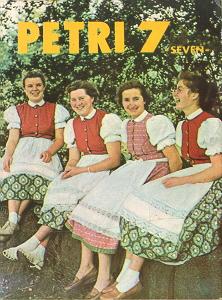 HOW TO USE YOUR PETRI 7 - seven
First load film. Turn the film ASA (DIN) indicator knob to show the ASA (DIN) of film in use. Shift your PETRI 7 toward the subject. Before your releasing the shutter button, do the followings:

(1) Take the lens cap away.
(2) Set the shutter speed.
(3) Cock the film advance lever.4www.butkus.org
(4) Turn the diaphragm ring, while looking through the viewfinder, until the needle in the finder points the proper-exposure indication. (See "How to use Coupled Exposure Meter) Make up the composition of picture in the bright-frame.
(5) And then release the shutter button.
Repeat the above-actions until you finish the exposure of film and then unload film.


How to Focus
| | |
| --- | --- |
| | As you look through Viewfinder and turn the focusing lever, a vague image in the center of viewfinder becomes one clear image. (See Picture on the left) As long as a double image is seen (See Picture an the right), it is out-of-focus. Even a glassed person can easily look through the finder without taking the glasses away as the eye-piece is super-wide. |

How to use Coupled Exposure Meter
(1) Turn Film-sensitiveness Indication r to show ASA (DIN) of film in use.

(2) Turn Shutter Speed Dial to set shutter speed as you desire.

(3) Shift your PETRI 7 toward the and turn the aperture ring to let the needle the indication mark

(See Picture in the middle), an that is the proper exposure for your picture -taking4www.butkus.org

Coupled photometer equipped with PETRI 7 is of light-reflecting type and does not need any switch to adjust the changing of light-condition. The aperture and shutter are coupled with the couple-range of Photometer is between LV 7 and 17 with ASA 100.

In-between of Scale-mark. . .
You cannot obtain the speed by setting the shutter speed in between two speed figures.


How to use self timer
| | |
| --- | --- |
| | Pull down the self timer lever to the end and release the shutter button. The lever starts as you release the button and about 8 seconds after your releasing the button the film will be exposed. You can use self timer with either M Or X-setting, but in Synchro-photography set the knob to X marking. |


Synchro-Flash Photography
Shutter will be released 20 mm second (1mm=0/1000sec.} after your releasing the shutter button. So it is recommended far you to use M-type bulbs which mark the top of brightness at 20 mm sec. after shutter-releasing. The synchronization is fully performed for every speed when you use M-type bulbs.


The shutter will be fully opened as soon as the switch-in is mode with X-synchronization, so synchro can be fully made for every speed as you use the speed light without "time-to-peak" In using f-bulbs, the synchro can be performed at all shutter speeds slower than the 1/60 sec. With M bulbs, it can be made at all speeds slower than 1/30 sec. Set the synchra-lever at either M or X when you photograph other than synchro-flash photography.


How to hold PETRI 7
To hold your PETRI 7 correctly, hold it with both hands and put the back of it an either your cheek or ease, then stop breathing while your releasing the shutter button. It is preferable that your both elbows touch your side.

4www.butkus.org


Use PETRI accessories for Your PETRI 7
PETRI LENS HOOD -PETRI LENS HOOD has been carefully designed to prevent stray light from entering the lens of your PETRI 7 It is constructed of light alloy metal and smartly styled to enhance the beauty of the PETRI 7. It is black coated to prevent the reflecting light inside of lens hood. It fits tightly and securely over the lens rim.

PETRI FILTERS
In order to insure perfect picture in all kind of light conditions it is necessary for you to choose the proper filter for your PETRI 7.

PETRI FILTERS are manufactured of the highest quality optical ingredients and subjected to the most rigid inspection and they V are available for your Petri 7 according to its use. UV, Y1, Y2, YA3, R1, PO1 for monochrome and W4, C4 C8, C12 12 for Color-photography.

PETRI AUXILIARY LENS SET
Switch Lenses In Seconds . . . Add extra coverage to your PETRI 7 camera. Hard coated, color-corrected precision lenses. No adapters needed. Each SET completes with Auxiliary Telephoto and Wide Angle Lenses, matching Viewfinder plus zippered case.

PETRI FILTERS
Petri Filters are Highest Quality Optical Ingredient and subjected to the mast rigid inspection and they are available to your Petri 7 for its use.

For B & W: UV, Y1, Y2, YA3, R1. & P01 For Color: W4, C4, Cd & C 1 2

Petri Lens is ideal for Color-photography
| | |
| --- | --- |
| | PETRI LENS equipped with Petri 7 is ideal for both B & W and Color photography. It is designed so as to show its high resolving power while the lens is widely opened. And the Petri's exclusive amber-coating makes Petri 7 ideal for color picture-taking. Recently the photographers often use the high ASA color film and with this superlative Petri Lens you can enjoy the accurate photographing even indoor and at night. One of the most difficult points in the color-photography is for the user to set the exposure properly, but with Petri 7 which has superlative . " CIRCLE-EYE " photometer built-in, you do not need to pay any attention to the exposure-setting. Just look at the needle in the viewfinder very carefully, and CIRCLE-EYE photometer gets you the proper exposure . . . even in the difficult setting for color-photography. |


7 Attractive point of Petri 7
(1) Built-in " CIRCLE-EYE" photometer fully coupled to Diaphragm and Shutter MAKES your exposure setting very easy and automatic while looking through viewfinder.4www.butkus.org

(2) Bright and Easy GOLD-frame in the "GREEN-O-MATIC" viewfinder MAKES your focusing accurate as you photograph the subject even in the dark place without any extra efforts.

(3) Super-fast Petri Lens is amber-coated and color-corrected.- And moreover it has a very high resolving power, so the lens is ideal for the color-photography.

(4) Feather-touch Petri Shutter has the speeds from 1 to 1/500 sec. plus B and its light operation MAKES your photographing a very speedy and stabilized one.

(5) Useful Self timer is built in the PETRI 7 and it is a truly MUST device when you take a group-picture. MX full-synchronization is also built in.

(6) Rapid film-advance lever is wound as you cock the lever (180 degrees) and can set the shutter simultaneously You can operate it while' shifting your camera toward the subject.

(7) Years ahead breathtakingly beautiful body styling is designed by PETRI which is known' for its GOOD-DESIGN. Note that no adjustment is needed when you use filter with PETRI 7.

Fantastic "CIRCLE-EYE " SYSTEM that made remarkable stride among the E. E. cameras. . . .
highly sensitive " CIRCLE-EYE " photometer fully coupled to Precision Exposure System means Quality Pictures each time you shift the PETRI 7 toward the subject. This system eliminates the need for complicated calculation in the PETRI 7. . . even with the use of filter. Other famous features include " Green-O-Matic " viewfinder, super-fast Petri lens and feather-touch Petri shutter plus self timer assure perfect pictures. Handsome body styling years ahead of its nearest competitors is the creation of PETRI's skilled technicians. PETRI 7 cameras known for superlative performance are unusually low-priced.

4www.butkus.org

Manufacturers: Kuribayashi Camera Industry, Inc.

1 Umejima-Machi, Adachi-Ku, Tokyo
Petri cameras are sold in major cities all over the world