Phoenix cameras
This company now is making Minolta and K-mount auto cameras. They have been around for a few years formerly making less expensive lenses and flashes for other camera brands. Their web site at www.phoenixcorp.com (Site Dead after 2007) has a listing of all their current cameras and functions. Nothing fancy, but if you desire an older Minolta or K-mount body in a lighter weight. Here is something new to try.
Listing of 35mm cameras they produced in 2007 (using WayBackMachine)
Listing of 2 1/4 cameras they produced in 2007 (using WayBackMachine)
Discontinued brand: HIKARI - a basic LED (top red - over exposed green - O.K. bottom red - under exposed - NOT SURE - ) camera with a K-mount body. Sort of the Chinon CM-5 with updated plastic body? Never used one but assuming here. My local camera store sells these but we have a County College 6 mile away with photo courses. How many of those college courses will move it digital, only time will tell.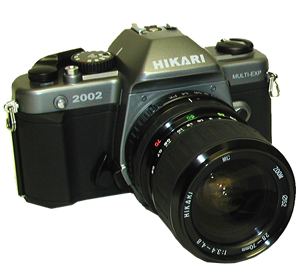 P-5000 35mm SLR AE basically a Minolta X370N
For information only: this is a Minolta mount camera. It is a basic Auto camera using the license from Minolta to use their mount. It has an AE (auto exposure) lock the older Minolta did not have. Phoenix is a small company making flashes, lenses and now camera bodies. Most likely for the "student" cameras requiring full manual operations, which this can do.
Click here for more information from their page (site dead in 2007)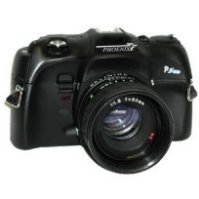 Features and Benefits Section
Camera Type: Quartz/Electronic controlled 35mm SLR auto exposure camera with TTL metering and LED display.

Film Format: 24mm x 36mm

Mount Type: Minolta ""MD"" mount

Quartz controlled horizontal-traverse cloth curtain type. When using electronic shutter in AUTO;
4-1/1000 sec. When using electronic shutter in MANUAL; 1-1/1000 sec and ""B"" (BULB). Controlled steplessly in auto mode. In manual mode, controlled by dial with click stops.

Flash Synchronization: Hot-shoe for synch X (1/60 second or slower).

Self-Timer: Electronic controlled, LED display provided, working time is appox
10 seconds. Cancelable.

Viewfinder: Eye-level fixed pentaprism type, image magnification ratio on the finder is 0.9x, field of view 94% horizontally and vertically of the actual picture area [with 50mm lens at infinity]. Power: -1
Mode indication, shutter speed scale with LED setting indication, over/under-range LED indicators
and flash ready signal are visible in the viewfinder.

Exposure Control: Full aperture (auto [Aperture-Priority AE]/manual )TTL, center-weighted averaging metering (Silicon Photocell).

Metering Range: EV-1 to EV-18 at ISO 100 with f/1.4 lens.

Film Speed Setting: ISO 12-3200 (1/3 EV steps)

AE Lock: Pressing Type

Film Advance: One frame advance by single lever action with 130° throw and 30° stand-off.
Auto Winder Accessory available.

Film Rewinding: Rewind release button and rewind crank.

Frame Counter: Progressive type with auto reset.

Main Switch: Off, On and On with audible alert.

Power Source: Two 1.5V alkaline (LR44) or silver oxide batteries (SR44) or one 3v lithium (CR-1/3/N). 4www.butkus.org

Dimensions: 6"" W x 3.6""H x 2.4""D

Weight: 17.6 oz. (camera body only)

Stock No: 05-220 P-5000 35mm SLR w/50mm f:1.8 Lens and Leather Case.

Accessory: 05-224 Optional Power Winder